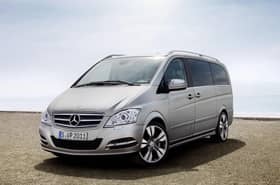 Executive Rent Roma soc.coop.
This activity provider is a trader on the GetYourGuide marketplace
Legal notice
Legal company name

Executive Rent roma

Registered address

via anagni 116 00171 roma
Contact details
GetYourGuide answers all contacts on behalf of the activity provider
About the activity provider
CAR RENTAL WITH CHAFFEUR IN ROME Our base is in Rome and we offer services in the important historical cities of Rome, Tuscany, Naples, Sorrento, Positano, The Amalfi Coast, Milan and Venice. Airport transfers and Shore Excursions from all the major cruise harbours in Italy, Civitavecchia, Livorno, Naples and Sorrento, are also a part of our services. You can choose the vehicle suitable to your requirements from our range of Mercedes Benz vehicles. These luxury vehicles are equipped with every comfort, facility and safety device. Every vehicle is licensed, insured to the maximum and registered, by the Government, as a passenger transport vehicle. We also provide, on request, safety seats for children under the age of 5 years. Driven by professional English speaking chauffeurs, We guarantees you a safe and enjoyable trip. We provide Rome airport transportation as well as similar services to and from all the main Italian airports. These services guarantee comfort, economy and valuable saving of time to our customers .It is a fact that there are several probable problems travelling to/from airports in Italy and different choices that a traveler can make... Let's take a closer look at the possible options.. OPTION 1 Permit a driver of Executive Rent to meet you as soon as you exit the customs clearance. He will have your name on a name sign, and a big 'welcome smile'. Believe me, this will feel good after that tiring flight! He will help with your baggage and escort you to the waiting vehicle of your choice. Driving you to the city, he will give you a brief overview of the sights you pass on the way, and be happy to give you any information you may require about life in Italy. OPTION 2 After your long flight, the long wait at the baggage claim for your baggage, you can choose to wait in an endless queue for a taxi. If you are LUCKY you may get one, of course, the driver will not understand English, but he will understand that you do not know the city, and he can take you on an unwanted 'city tour' charging you double the right amount. He will also decide to charge you extra for each piece of baggage. OPTION 3 Drag your heavy baggage for approximately a mile to the train station. Wait in a queue to buy your ticket which costs euro 11 per person. If you are 3 persons you will pay Euro 33, and don't forget your transport when you arrive at the station in Rome! You will need a bus or perhaps the Metro rail system, crowded, chaotic with a pick-pocket behind every seat! Or you will need to trust a taxi driver to take you to your destination without a rip off. In total you will Spend approximately euro 45 or more. Rome airport transportation services offered by Limousine System takes care of every detail, providing EASY airport transfers to customers who do not wish to use public transport services! Features of our service: - We monitor flight arrivals - Your chauffeur will meet you in the arrival hall, located after the customs clearance. - Your chauffeur will hold your name on a sign, so you can identify him. - Your chauffeur will carry your luggage to your vehicle. - Your chauffeur will be aware of your destination. Book a chauffeur driven vehicle for your transfer to/from airport in Rome: do not stress yourself by standing in a queue for a taxi, and being ripped off! Be smart! Save money! Book our transportation services and take a panoramic tour of Rome on your way...
Executive Rent Roma soc.coop. offers tours and activities for these attractions:
Executive Rent Roma soc.coop. offers tours and activities in these cities: