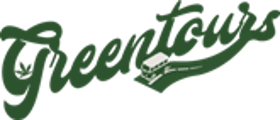 Green Tours inc.
This activity provider is a trader on the GetYourGuide marketplace
Legal notice
Legal company name

Green Tours inc.

Registered address

10809 Hartsook street 91601 North Hollywood CA
Contact details
GetYourGuide answers all contacts on behalf of the activity provider
About the activity provider
GreenTours is at the forefront of cannabis tourism and the Go-To for all things marijuana in Los Angeles. We are revolutionizing the way tourists and locals have a 420 experience. We offer visitors a glimpse into the world of cannabis legalization, weed culture, the cultivation process and marijuana experiences across LA and Hollywood. If it's flower, dabs/wax, concentrates, edibles or anything else marijuana, GreenTours is your resource for all things pot in Southern California. Find pot-friendly classes and workshops, book a home with our weed-friendly rentals, and visit LA's premier dispensaries and lounges in our GreenTours luxury buses. We at GreenTours are more than just a team, we are a family of like-minded individuals who have experience in both cannabis and tourism/transportation. Combining our knowledge in what seemed to be two disjointed industries, marijuana reforms helped give birth to a truly immersive and encompassing marijuana experience. We are knowledgeable in Prop 64 (adult use of marijuana act) and provide access to marijuana legalization educational material. Whether you are a seasoned toker or a novice to "grass," we cater to smokers and non-smokers of any experience level. We can help guide you through your first marijuana experience (or first experience in a LONG time) by educating you on THC levels, CBD and providing our guests with a safe environment to enjoy some of California's most spectacular buds. If you are more versed in the culture of 'herb', we provide a deeper look into the science of weed and the concentrates industry. Let us show you where to find the best BHO, shatter, oils, live resin/rosin and all things wax in LA. Come see what makes GreenTours the best marijuana tour and lifestyle company in Los Angeles County. We provide the best in marijuana tourism and education – with exclusive access to state of the art growing facilities and luxurious buses to transport you in style. If you want to learn more about cultivation or simply want to see the sights of Los Angeles with a pot friendly group of individuals, come join us! Travel in HIGH-class with GreenTours.
Green Tours inc. offers tours and activities for these attractions:
Green Tours inc. offers tours and activities in these cities:
Things to do organized by Green Tours inc.