Our most recommended New Zealand Top 10
1. Rotorua: ZORB Inflatable Ball Rides

Take on an iconic New Zealand experience in Rotorua. Roll down a hill inside a specially designed giant inflatable ball. Choose from a single, double or triple ride option when booking. On the day, opt for your ride style: H2OGO (wet) or DRYGO (dry). On warm days, superman dive into the H2OGO on your own or with friends as you slip, slide and laugh your way down the slope. The specially designed ball means you remain will right-side up and not get dizzy. On cold days, stay warm in the H2OGO with warm water used for the rides or opt to stay dry in the DRYGO. Hot spas will keep you toasty in between rides, an outdoor fire will pump serious warmth, and there will be heated changing rooms for afterwards. Delicious coffee made by baristas will also available on-site. 
5 best day trips from Vienna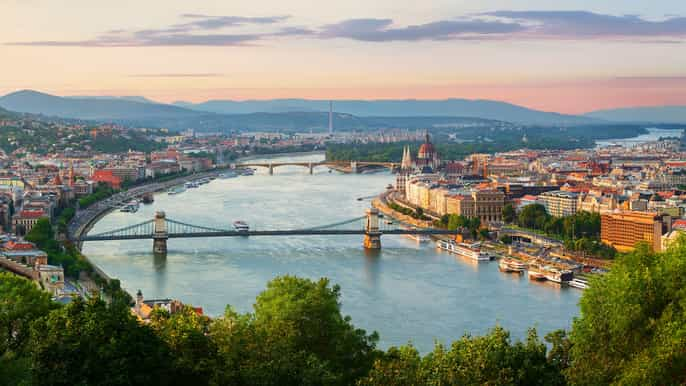 1. Day trip to Budapest
Follow the Danube River and head to Budapest, Hungary's magnificent capital. A city with a fascinating history, Budapest has been home to diverse cultures, from Celts and Romans to Huns and Hapsburgs. Travelers can choose from all kinds of activities, like soaking in thermal springs at the Szecheyni Baths, taking the funicular up to Buda Castle, and admiring the fairytale towers of the Fisherman's Bastion. Recharge with a drink at one of the city's urban ruin pubs or cake and coffee at Café Gerbaud.
How far is Budapest from Vienna?
Allow plenty of time for the 243-kilometer (150-mile) journey to Budapest from Vienna. By car or train, you can expect to arrive after two and a half hours. The bus from Vienna's bus terminal takes just over three hours. Of course, don't forget your passport since you'll be crossing an international border.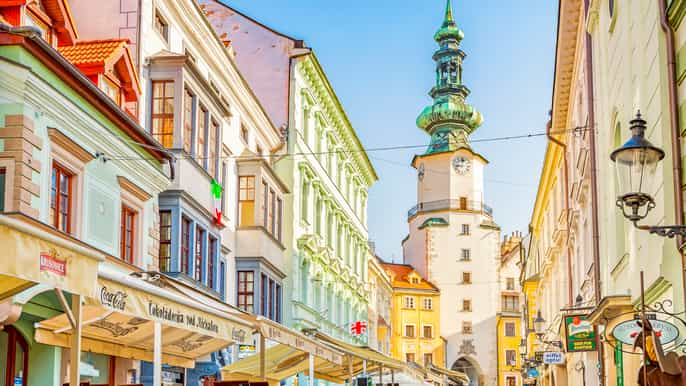 2. Day trip to Bratislava
Just over the Danube and across the Slovakian border, your chance to explore the vibrant city of Bratislava awaits. Though it's one of the smaller European capitals, the city still receives around a million visitors every year. A true cultural center, visitors can tour the baroque palaces of the historic center, like the president's residence of Grassalkovich Palace, and the dominating hilltop Bratislava Castle. In the Old Town, hunt down the statue of Čumil ("the watcher") and rub his hat for good luck.
How far is Bratislava from Vienna?
Just 80 kilometers (50 miles) away, Bratislava is easy to reach. Whether you travel by car or by train, it will only take about an hour.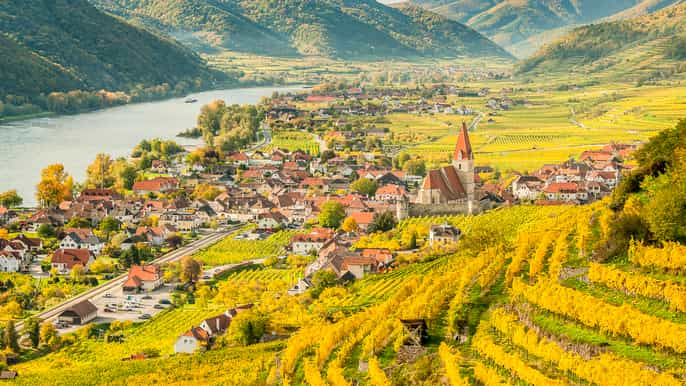 3. Day trip to the Wachau Valley
People hoping to get out to the countryside will find a wonderful retreat in the Wachau Valley. As a UNESCO World Heritage Site, the valley is rich with history and culture. A well-known wine producing region, fans of Riesling and Grüner Veltliner will love their time in the valley. Visitors to Wachau shouldn't miss a stop in Melk at the grand abbey, with its famous frescoes and incredible library. Other worthy stops include the town of Krems, Schallaburg Castle, and Göttweig Abbey.
How far is the Wachau Valley from Vienna?
Drive time for the 90 kilometers (56 miles) from Vienna to the Wachau Valley averages an hour. Train travel time is similar but can take up to 90 minutes.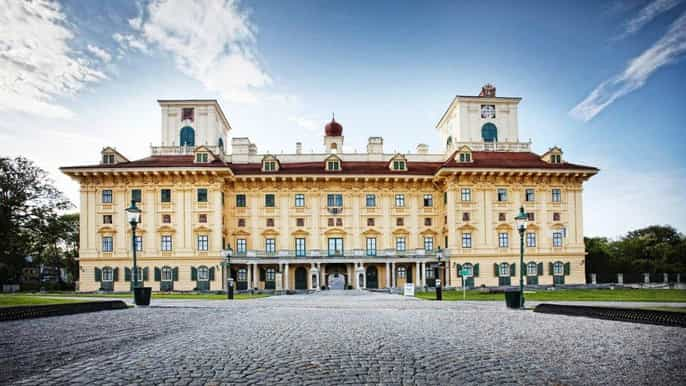 4. Day trip to Burgenland
With 300 sunny days a year, the easternmost state of Burgenland is a tranquil getaway from the city. With its temperate climate, Burgenland is considered true Austrian wine country. Apart from sipping the local wares, the regal Halbturn Palace warrants a visit, while nature lovers can get outdoors on Lake Neuseidl. Finally, make sure to check out the majesty of Esterházy Palace.
How far is Burgenland from Vienna?
As its own state, the distance to Burgenland depends on the specific destination to which you're traveling. The journey from Vienna to the capital of Eisenstadt is around 65 kilometers (40 miles). By car, you should arrive in just over an hour, while the train can range from one hour to 90 minutes. By bus, plan for just under two hours.
5. Day trip to Vienna Woods
Day trips to the Vienna Woods, also known as the Wienerwald, are extremely popular with the Viennese locals, as well as adventurous travelers who want to experience the nature of Austria. The most common activities in the woods are hiking and biking in Naturpark Föhrenberge, but there's more to the area than the stunning scenery. Hear the heavenly Gregorian chants of the monks at the Heiligenkreuz Abbey, cruise across the underground lake of Seegrotte, and take in the views from Hoher Lindkogel.
How far is the Vienna Woods from Vienna?
Depending on which part of the forest you decide to travel to, the trek from Vienna to the Vienna Woods could be anywhere from 40 minutes to over an hour by car. Unfortunately, you can't access Naturpark Föhrenberge easily by train, but you can get to nearby towns like Hinterbrühl by bus in about 45 minutes.
Vienna day trip FAQ
What transportation options should I choose for my day trip?
Every method of transportation has its pros and cons, but there's always one that's just right for your needs.
• Vienna day trips by train

Traveling around the Vienna area is easy thanks to Austria's great rail network. Trains are frequent and reliable. Tickets can be purchased easily online or in person practically any time of day.

• Vienna day trips by bus

Though the bus is your best public transportation option for more rural or mountainous areas, you should plan ahead as weekend service can slow down or stop entirely.

• Vienna day trips by car

The convenience of traveling with your own vehicle just can't be beaten. It allows you to tailor your day trip to your own interests and needs. The freedom of a car is perfect for exploring less busy places and making impromptu moves.
---
Should I take a guided tour for my day trip?
No matter your motivation, a guided tour can be the ideal option for many travelers. You get to avoid the headache of booking tickets, transportation, navigation and even sometimes waiting in line. Guided tours can be an especially good idea if your day trip plans involve tricky logistics like multiple stops.
---
What should I pack for my day trip?
Your destination will greatly affect what you need to bring on your day trip. Some destinations may require some warm layers or rain gear. Some guided tours may provide everything else you need, from your tickets to meals.
---
What people are saying about Vienna
An amazing day from start to finish! You don't need to be a lover of wine to enjoy this execurison. It's intimate, due to small group, filled with visits to several attractions along the valley. Our tour guide, Iolo, was great fun, full of stories and always great with answering any questiond. Highly recommend this trip.
Well organized trip, confortable bus, good local guide in Bratislava, nice cruise back to Vienna.
Very interesting, great for a first approach to the city. The guide, very kind
It was great, just great organized and great weather. Gladly again!
Highly recommended!!! The price definitely pays off.